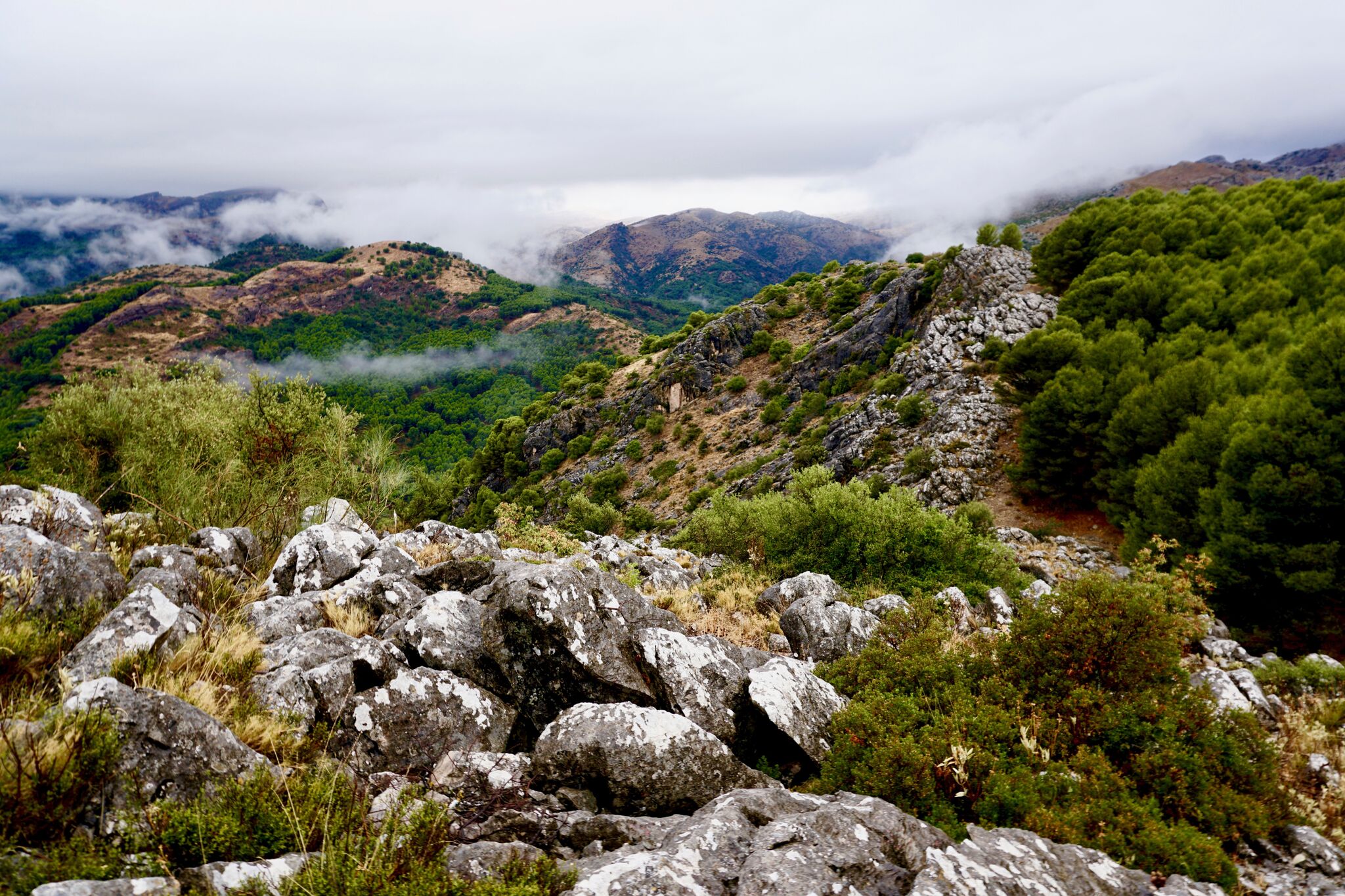 off grid sustainable holidays and garden design courses
location & activities
Finca Las Morenas is located in the beautiful Sierra de las Nieves mountains approximately 1 hour from Malaga airport. The Finca is situated in a very special and private location between the white villages of Yunquera & El Burgo.
The house is perfectly situated for anyone who enjoys nature and an outdoor lifestyle as we are right in the centre of the Sierra de Las Nieves biosphere in a beautiful and unique location where the only sounds are the birds, breeze and occasional riders on horseback or mountain bikers passing through the recently upgraded National Park.
The National Park is literally behind the house, providing immediate access to many walks and trails without needing to drive anywhere. The views from the track that leads up behind the house are dramatic and far reaching and you can walk for miles, on marked routes and tracks throughout the park.
Our property is a great base for exploring the area; Walking, Horse-riding, Mountain biking, Birdwatching, and Painting are a few of the many activities that can be enjoyed here. In addition we are also offering various garden design and Mediterranean planting design courses here at the house.
We are situated a short drive from the traditional Andalucian villages of Yunquera and El Burgo. Both have a good selection of independent shops where you can buy fresh fruit and vegetables, fish, meat and most other essential items. The quality and value of the local ingredients is excellent including fantastic local goat's cheese which is made in the village. In addition each village also has a small but very well stocked supermarket.
Yunquera is very famous for it's chestnuts and honey – apparently the King of Spain prefers honey from Yunquera! In October each year Yunqeranos celebrate the" Feria del vino y la Castana"
Should you prefer not to cook, there are plenty of inexpensive good quality local bars & restaurants serving tapas, or full meals where you can experience local cusine from early morning until very late!
Within an hours drive of the house there are many places of interest to visit, with access to Seville and Cordoba within a couple of hours. We are located 40 minutes from the historic town of Ronda with the famous El Tajo gorge, which is well worth visiting.
As a complete contrast you could walk the famous recently restored Caminito Del Rey at El Chorro with it's dramatic vertiginous walkway suspended from the cliff edge through the gorge! It is advisable to book tickets well in advance!
The list below highlights a few of the many great places that you can access from the house. Please visit our gallery to see lots more.
DAY TRIPS FROM LAS MORENAS
Ronda
http://www.andalucia.com/ronda/home.htm
The Pileta Cave
https://www.cuevadelapileta.org/ Tel: +34 687 13 33 38
Acinipo
http://www.andalucia.com/history/acinipo.htm
Setenil
http://www.andalucia.com/province/cadiz/setenil/home.htm
The Caminito del Rey
http://www.caminitodelrey.info
Bobastro:
http://www.malaga.es/es/turismo/patrimonio/lis_cd-5083/basilica-mozarabe-ruinas-bobastro-ardales-rincon-singular
MONUMENTS AND MUSEUMS IN MALAGA

Gibralfaro Castle
The Alcazaba
Roman Theatre
Picasso Museum
Thyssen Museum

The Pompidou Museum

Botanical Garden Concepción